[ad_1]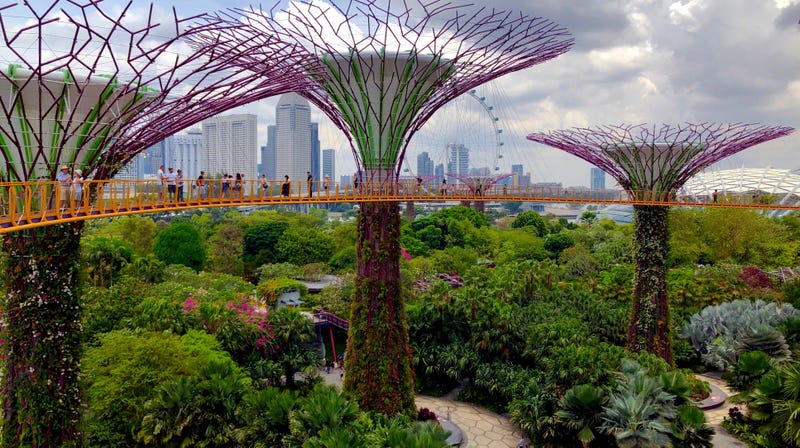 Like Tom Waits, we sailed this week to Singapore. We asked for your best travel tips for the tropical island city-state, and you gave us dozens. Below are some highlights, and there are more great recommendations in the original comment thread. Check them out!
Each Monday on Hack Your City, we ask readers for your best tips on a city: driving tips, restaurant recs, things to do, and any other advice for visitors and locals. Then on Thursday, we present the best comments. We're working our way around the U.S. and around the globe.
Eat and drink
"Try all the food. Char kuey teow, nasi lemak, roti canai, assam laksa, Hokkien mee, satay, fish head curry, durian (be brave!)."—bananananarama
"You get authentic world cuisine here, not their version of it. I can say that because Indian food gets butchered the most, and I can safely say that's not the case in Singapore."—ShivamSharma
"Char kway teow, Hainanese chicken rice, and especially chilli crabs are must-haves. Jumbo Seafood is a good place to go for chilli crab; good taste and it's a nice sit-down restaurant."—MikePenceNoneTheRicherNowVP
"Skip tourist trap Jumbo and replace with New Ubin Seafood for your chilli crab fix. Also get the spam fries, cereal prawns, salted egg anything, and bee hoon. Hell, eat the whole menu."—PaulCypert
"Try Iced Barley Drink if you want something refreshing. It's not so sweet and the barley adds an interesting texture to the drink."—Bob5123
"Hawker centres and coffeeshops (which are more like foodcourts than Starbucks). You can get a good meal and drinks in Singapore for about 5USD. I highly recommend Changi Village, Newton Food Centre, Adam Road Hawker Centre, Tiong Bahru Market and Old Airport Road Food Centre."—MoonlightMasquerade
"Get Hokkaido Ice Cream. Best Ice Cream you'll ever eat. Try a flavor that sounds weird to you."—James
"Go to the Brix bar under the Hyatt. Word's can't describe this place. Don't judge the reviews online, its a whole other level of crazy."—BG1980
"Be sure to grab a drink and meal in Haji lane area (Arab street). It's getting a bit too precious but there's some fun shops and I love the halal Scandinavian restaurant (think upscale Ikea food LOL)."—PaulCypert
"Have dinner at Folklore and order the Sambal Buah Keluak rice. I also loved the Babi Assam and Ayam Lemak Chilli Padi. If you can roll away from your table, finish the night in Atlas, which is a cavernous art deco former bank that has been repurposed into a lounge with an impressive gin collection."—Architart
See and do
"If you're a history buff, I recommend the National History Museum or the Asian Civilisations Museum. For something you won't find anywhere but Singapore, try the Peranakan Museum (Peranakans are a local cultural group that's unique to Singapore and Malaysia)."—MoonlightMasquerade
"Do go to Gardens by the Bay. Touristy and pricey, but spectacular and in the middle of everything."—UncleTravelingMatt
"One of the most interesting areas is Telok Ayer Street where you have various places of worship all on the same street: Chinese temples, churches, Hindu temples, mosques."—Zeemirg
"You can swim with dolphins at Sentosa! I did it when I was 15 and over 10 years later it was still one of the best experiences."—Hannah
"Buddha Tooth Relic Temple and Museum is very nice. Take your shoes off, go in and don't forget the upper floors for free museum with tons of ancient Buddha statues etc. Be respectful, dress properly if you plan on going."—montreal514
"Go to hawker centers [food courts] outside of the city center. The ones downtown are more touristy."—Skshrews
"Escape the bustle and visit Singapore's little island Pulau Ubin with a nice little ferry or boat ride from Changi Village. Can hire a push bike and explore, see wild monkeys, etc. Amazing something so unspoilt is so close to Singapore."—A Edwards
"Haw Par Villa: Chinese mythology theme park that was built by the guy who created Tiger Balm. It's free to enter and it's amazing."—mamey
"Ride the Singapore Flyer (until recently, the largest Ferris wheel in the world). Go to the Singapore Zoo. Really, I've been to some of the best zoos in the US: Henry Dorley Zoo in Omaha, San Diego Zoo, Smithsonian Zoo in DC… This zoo knocks 'em all off. The Singapore Botanical Gardens are OUT-FREAKIN'-standing. Seriously, if you are into orchids, you will feel like you've died and gone to the afterlife."—csweiner
"If you come around during a public holiday like Chinese New Year or Hari Raya or Deepavali or National Day, you see a lot of neat decor and cultural stuff. National Day we have a big parade with lots of fireworks."—Zeemirg
Know your stuff
"It is tropical and very humid, so make sure you wear cool fabrics. If you are heading indoors, you may need an extra layer so the air conditioning does not give your system a shock. It often rains unexpectedly and it can be torrential, so pack an umbrella."—Nellie
"If you're coming from the US, pay the extra for economy plus seating (or better). It's a long flight."—ItsDeke
"Get an EZ-Link card for public transportation. The MRT (subway) is the best subway on earth. It just is. The EZ-Link can also be used for buses, and paying for things at various places so you don't have to carry as much cash (7-11, tea houses, McDonalds, etc)."—James
"At shift change drivers are reluctant to travel anywhere except the general direction of their home, be polite and tell them where you want to go before getting in."—Tarquin Shrapnel-Carruthers
"We are a 'fine' country. Littering, spitting, and graffiti can all get you fined $1,000. Also, you won't get arrested for chewing gum, but please throw it into the rubbish bin when you're done."—MoonlightMasquerade
"Yes, it's illegal to have man on man gay sex (lesbian sex is not against the law), but no one is bursting through doors arresting them. Really, ZERO. Why do we have this law then? It's a leftover from the Brits during the colonial time, and keeping it in our legal system also keeps the religious people happy (many have been trying to get it abolished for years, but so far, no dice)."—dZus
"We stayed at Hotel Clover 7, nicely located, decent, etc, but the nice thing is they provided (with safety deposit) a smartphone with free unlimited local calls, free google maps with GPS, an app with discounts (we bought all our tickets from this). The phone is locked to a few single apps but so very helpful."—montreal514
"Walk around, you will probably never feel unsafe at any time. If you smoke do it only in designated areas and never, ever litter. Really, the city is almost pristine."—Professor Acksman
Get out of town
While you're in the area, hop over the water to Malaysia, say several readers. That's what the Crazy Rich Asians shoot did. Reader bananananarama lists some Malaysian locations featured in the movie that are worth visiting: "The bible study house (Be-landa House), Grandma's house (Carcosa Seri Negara), the mahjong place (Cheong Fatt Tze mansion), and the bachelor/bachelorette parties (Langkawi)."
"Malaysia is the only country you can travel to from Singapore by bus or train, though bus is definitely the cheapest option. Instead of booking a bus to your final destination in Singapore, take SBS bus 170X from Kranji MRT Station across the border to the bus terminal in Jurong Bahru. Once there, you can buy bus tickets to wherever you want to go for a third of what you would've paid if you booked in Singapore."—Charzar89
"Kuala Lumpur is not far away and I always liked it a lot more than Singapore, which seemed like a more expensive, clean cut version of KL."—Ara_Richards
That's it for Singapore, except for all the other tips in the original comment thread. Come back Monday, when we head to the home of the Garbage Plate.
Thanks for reading the article. Share if you enjoyed!
[ad_2]

Source link